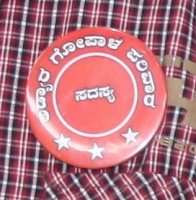 ADYAR GOPAL PARIVAR

ANNUAL CONVENTION 2012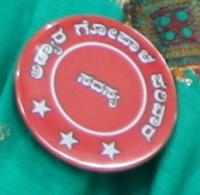 BANGALORE CONVENTION

Sunday, 14th October, 2012,

at Bangalore Sri Kashi Math, Sri Sudhindra Tirtha Sabhabhavan, 2nd Floor, Malleshwaram, Bangalore, 560055
INVITATION

PHOTOS

CALLING ALL MEMBERS OF ADYAR GOPAL PARIVAR

to the Annual General Body Meeting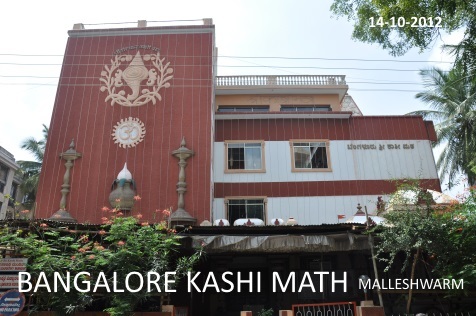 ADYAR GOPAL PARIVAR ANNUAL CONVENTION 2012 to be held on Sunday, 14th October, 2012, from 9.00 am. to 5 pm. at Sri Sudhindra Thirth Sadan, 2nd Floor, Sri Kashi Math, 19th Cross, Malleshwaram,Bangalore Karnaataka State, PIN 560055, India.

The 106th birth annivarsary of late Adyar Gopalakrishna Shenoy falls on 21-9-2012 and his death anniversary on 8th Aug. 2012.

In order to keep the memory alive and active of all our ancestors, viz. Sampige Madhav Kini, Mijar Madhav Shenoy, Mijar Annappa Kamath, Manchkal Lakhman Kudva, Hiranki Ramachandra Kini, and Adyar Manjunath Shanbhogue, I have invited all the members of Adyar Gopal Parivar to a meeting.

This meeting becomes more or less like a business meeting with no fan-fare of any kind. The main purpose of the meeting is for the blood relatives of Adyar Gopal and Radha G. Shenoy to come together and exchange views openly.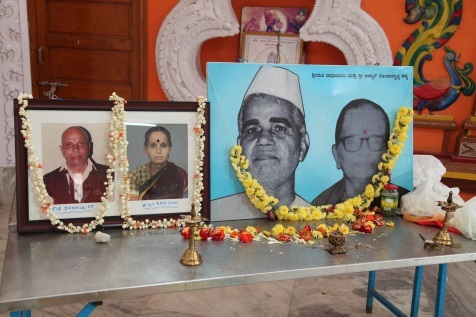 The wives and husbands of the blood relatives and their children and grand-children are taken to be members. Any one would come and attend the meeting and join the club even without invitation purely on the basis of his or her blood relationship and how much love and respect he or she has for the ancestors.

There is no membership fees of any kind.

I request you to consider this as my personal invitation to come to our state capital i.e. Bangalore City, which has been the adopted residence of many of our members. You and your wife and child/children are listed as members of this Adyar Gopal Parivar.

Please ask your brothers and sisters and their spouses and children to send me their names to enroll as members, if they have not already done so. Even the daughters are direct descendents.


Since food is going to be served, I request you to let me know if you are attending, and how many members will accompany you.Note: If any member does not inform me in advance that he or she is attending then there is likely to be difficulty in serving everyone properly.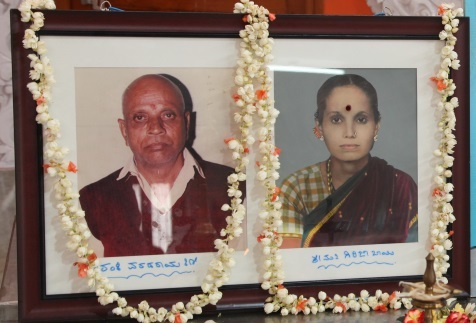 Sunday 14th October 20129.00 a.m. Breakfast.

Later - Invocation song, Lighting of oil-lamp, Welcome address, Obituary References, Light music (songs), Speeches by members (3 Mts. each), Felicitation to the deserving, Bhajan, Songs, Drama, Dance etc.

1.00 p.m. Lunch (Buffet).2.30 p.m.

Group Photo Sessions, Games, Songs, Variety entertainment (as time permits)

3.30 p.m. Light music(songs), Speeches by members (3 Mts. each), Bhajan, Songs, Drama, Dance etc.

4.30 p.m. Sweet and Khara, Tea, Coffee, Badam Milk.

Conclusion.

Arrangements are to be made for over-night stay at the homes of members living in and around Bangalore for those who are coming from outstation. Those who are interested to provide accommodation, are hereby encouraged to give their names to me..

Those who are interested to spend a night with our own parivar members and experience the camaraderie and brotherhood amongst us are requested to contact me.

There are others volunteering to host you for the event. Please contact me for further assistance at 09845855787.

Invitations to members have been already despatched. Those who have not received it may get in touch with Dr. Mohan Shenoy.

THOSE WHO ARE ATTENDING THE MEETING ARE HEREBY REQUESTED TO GIVE THEIR NAMES TO DR. SHENOY SO THAT ADEQUATE NUMBER OF PLATES FOR MEALS MAY BE ARRANGED.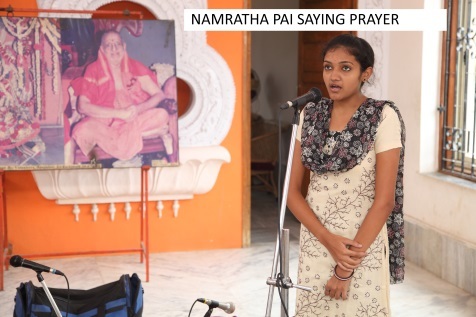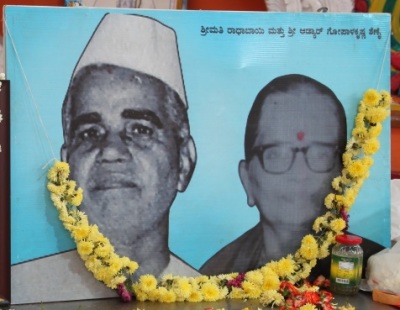 MEMBERS ATTENDINGTHE ANNUAL GENERAL BODY MEETING 2012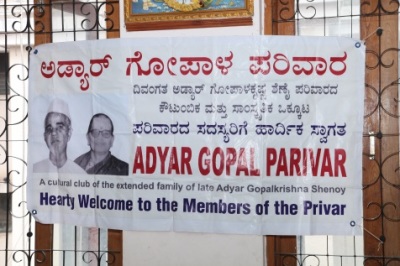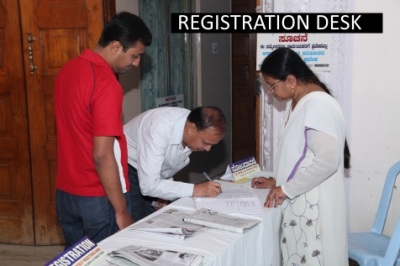 1. Devidas Kudva S/o late Sanjeev Kudva

2. Deepika Kudva W/o Devidas Kudva

3. Kartik Kudva S/o Devidas Kudva

4. Vignesh Kudva S/o Devidas Kudva

5. Mohan Shenoy S/o Gopalkrishna Shenoy

6. Lalitha Shenoy W/o Mohan Shenoy

7. Shanthkumar Kini S/o Varadaraya Kini

8. Revathi Kini W/o Shanthkumar Kini

9. Prakash Hegde H/o Priya (Shamala)

10. Shamala Hegde D/o Shanthi Pai

11, Prateeksha Hegde D/o Prakash Hegde

12. Sudha Prabhu D/o late Arundhati P Shenoy

13. Santosh Prabhu S/o Sudha Prabhu

14. Ramdas Shenoy S/o late Arundhati P Shenoy

15. Raghavendra Shenoy S/o Ramdas Shenoy

16. H. Devanand Shenoy

16. B.G.Dinesh Mallya S/o Nethravathi Mallya

17. Divya Mallya W/o Dinesh Mallya

18. Disha Mallya D/o Dinesh Mallya

19. M. Nithyananda Kudva

20. Dr. K.Malathi

21. Naveen Shenoy

22. M.M.Kudva

23. Shobha Kudva

24. Aditi Kudva

25. Soujanya Kudva

26. R. Pundalik Nayak

27. Geetha P Nayak

28. Deeksha P Nayak

29. Priya P. Nayak

30. Prakash Rao

31. Maya P Rao

32. Gourav P Rao

33. Leka Kamath

34. Vedavyas Kamath

35. M.V.Bhandarkar

36. Saguna Bhandarkar

37. Vijay Bhandarkar

38. B.V.Srinivas Kini

39. Kasthuri S Kini

40. Manjunath B.S.Kini

41. Ravi Raj B.S.Kini

42. M. Nithyananda Pai

43. Lakshmi S Shanbhogue

44. Shankar Shanbhogue

45. Sohani Shankar

46. K. Chirag Kamath

47. Santosh Hegde

48. Divya Hegde

49. Saanvi Hegde

50. Ramesh Bhandarkar

51. Rashmi Bhandarkar

52. Rachana Bhandarkar

53. Shashank Bhandarkar

54. Sudarshan Kini

55. Vijaya Kini

56. Vidyasagar Kini

57. Santosh Kudva

58. Savitha Manjunath Kini

59. Abhijit Manjunath Kini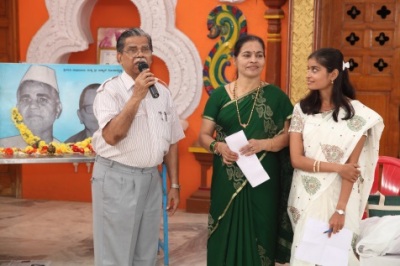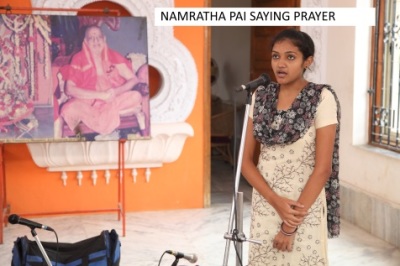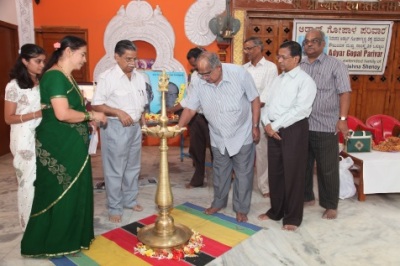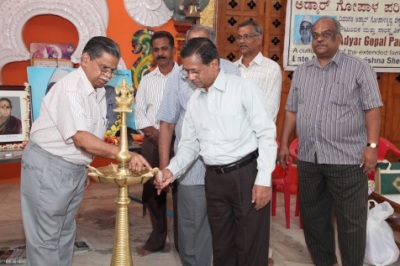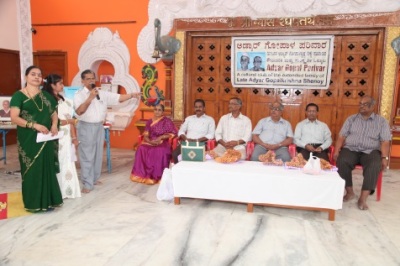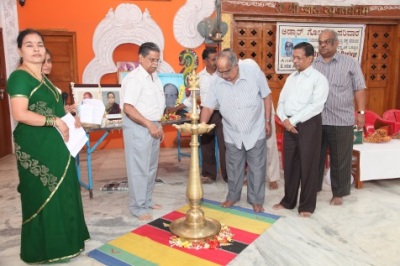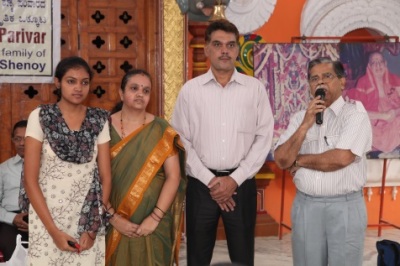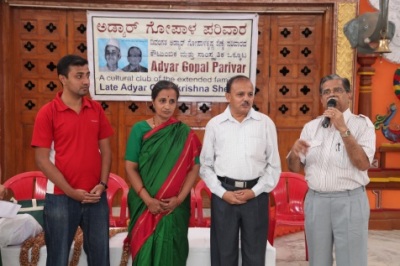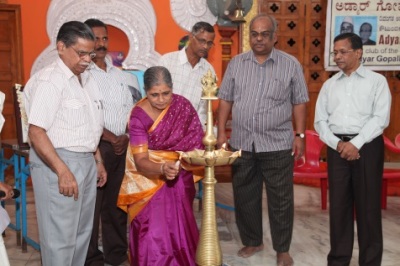 FREQUENTLLY ASKED QUESTIONS

Q: My belief is that good deeds and deeds that pay respect to elders should be organized with a will and a wish of all members of the home.

Viewing from one side I believe that your wife Lalitha has all rights to say what she is saying.

But I feel sad the way she is making propaganda about it. She should be proud that you have created this forum and grown it to this size today. I believe Lalitha's concern is about the expenditure and money. I wish to propose the following options:

A. Let there be an entry charge payable by all members who come to the function on that day.

B. Let each one of us give what ever amount they feel and it can be considered as corpus amount for expenditure. In case there is a short fall then you can bear the balance yourself. This will reduce the expenses. You do not have to bear the entire expenditure. C. Let all members give money only for the food. The rest of expenses can be borne by you. I guess this would be the most ideal choice and all should be able to accept this. It would be costing them as though they would have gone for a hotel for a lunch/dinner per head.

Some family members may be not in a position to pay this due to finance conditions. For such family members we can have exceptions. For such family members some of us can bare the expenditure.

A: I have not started AGP to make it a permanent feature. It is going to die with me. It is only for spending my money in a good way. Your scheme is not acceptable because it allows saving the money. I do not want to save my money.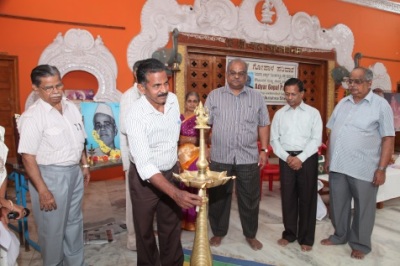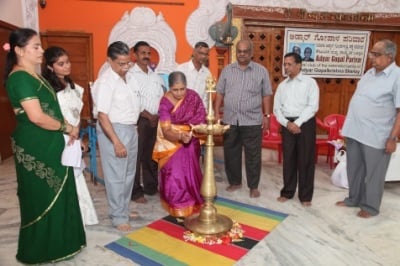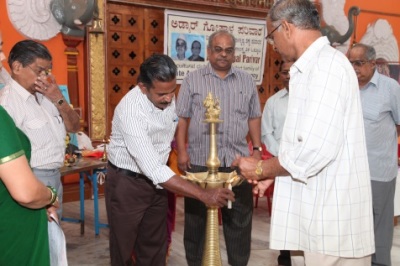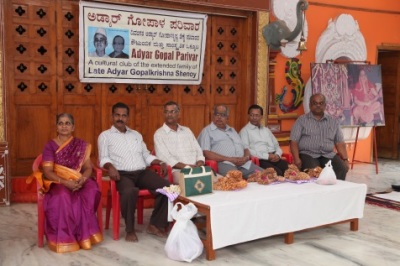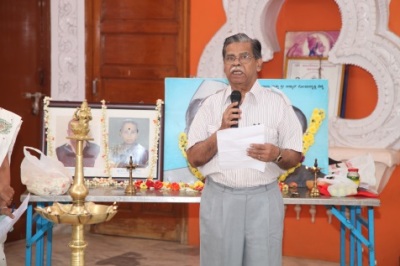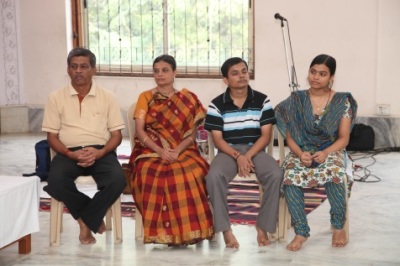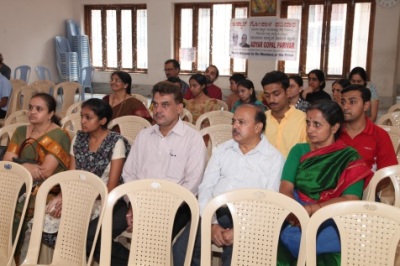 Q. There is a feeling of embarassment among participants knowing fully well about your wife's objection to hold such functions. I request you to consider my suggestion with grace and magnanimity so that days ahead can be one of harmony and peace. Also I request you not to bring the differences with your wife in the public domain. Everyone will be too glad to see both of you happy and together on major issues.

The life span that is left over is too little and it is my desire that it should be more meaningful. To make peace with your wife I suggest you to distribute fruits in orphanage or old age home on anniversary day without going in for this type of function. By this you will also meet her demand but also fulfil your desire. I can tell you nobody will feel bad if you do not arrange for this function in future.

A: Putting the differences between us in the public domain was for the sake of transparency and truthfulness on my part. I have now learnt how to get peace and harmony for myself by controlling my emotions, speech and behaviour. Hiding the differences would make matters worse.

You are suggesting that I distribute fruits in orphanage .... But when I see the faces in the orphanages, the old age homes, temples, schools, colleges and other places I do not get the same feeling and pleasure that I get in organising functions like this one with my parents' relations. Charity is not the aim of these functions. I am organising these for the unique pleasure of togetherness.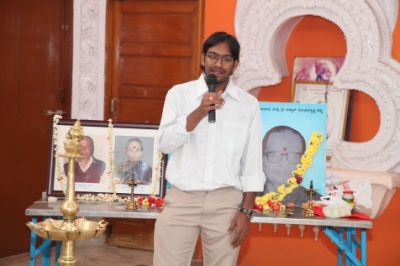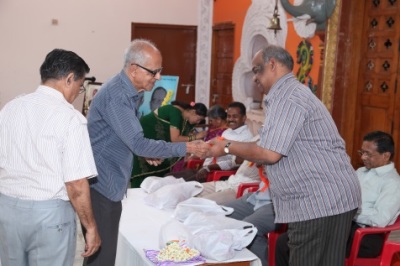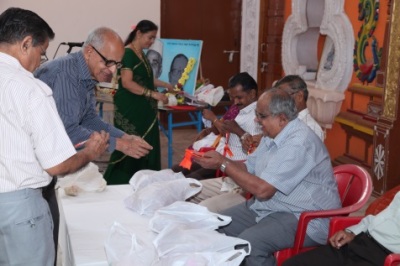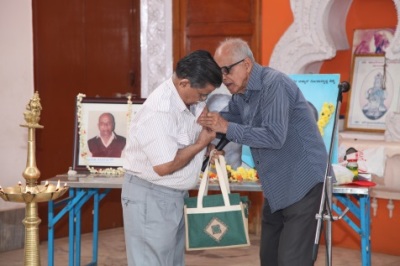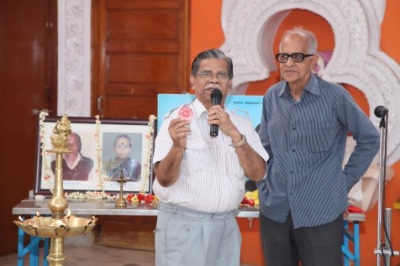 JOYOUS AUSTERITY

Although I have created the parivar, the parivar is not my primary objective. It is only a mechanism to spend my surplus for my pleasure and satisfaction without losing my austerity.

What I do is the so-called joyous austerity. My joy lies in the twin objective of austerity in my living and joyous expenditure. One can not live austerely and at the same time spend his money for his personal luxury. I want to spend money, not save it.

If I save the money or give the money to Lalitha (my wife)to save, then neither she nor I would be able to spend it for our personal joy and satisfaction. She might not be able to spend her savings for items that will benefit her because she has no ambitions to show off her richness. One of the joys of being rich is the ability to show it off for every one to see.

Even if she were to spend the money for gold jewelery, cosmetics, kitchen utensils, domestic appliances, cars, yachts, high rise buildings, two seater planes, then she can not utilise them without my help. It is I who will end up servicing these items for her. You know very well that I have no interest in these things.

Even to enjoy a good meal in a posh restaurant, it is I who will have to escort her to the place. It is unfortunate that Lalitha is married to an ascetic like me. I can not change my ascetic nature. She can not divorce me either, because it is too late now.

The Adyar Gopal parivar is made of people who are not rich in the sense of the word. They are all ordinary people. The richest among them do not attend the meetings. The others who attend the meeting do not come there for begging. They come for some sort of enjoyment that is available by meeting their relatives and for gossip.

When I hold the lottery it gives some sort of playful pleasure to all. When I give away small amounts like 500 to 1000 rupees to students it only gives them the joy of receiving a gift. The money I give is so small that it can not sustain them even for a day.

When the food is served it is only the joy of eating together that is gained. They do not come there for food which they would not get elsewhere.

It is sad that Lalitha objects to this activity of mine tooth and nail. But I am not perturbed.

When I do these things completely voluntarily there is no sadness if I miss it for any reason. I am happy if I can organise a meeting with the cooperation of Lalitha.

But if she does not cooperate then I do not hate her for it. I will still manage to get things done without rocking the boat too much.The only way to stop her from feeling bad is to bring an end to the extra income. But that would be foolish.